It's almost 2018! Wow, did this year fly by or what? I hope you've had an amazingly nourishing year and I also hope you've enjoyed my recipes this past year too! I've had so much fun creating recipes for you guys and nourishing my family at the same time.   
At the end of every year I share YOUR favourite recipes from the blog as evidenced by number of visits to these blog posts. This year, I'm really not surprised what you guys loved the most – from Homemade Coconut Yogurt to Zucchini Walnut Cake, clearly someone has a sweet tooth 😉 
Be sure to scroll all the way to be the bottom where I share my personal favourite recipes too. So here they are!
Your Favourite Recipes of 2017
1. How To Make Homemade Coconut Milk Yogurt
Coconut-everything is all the rage right now (and for good reason!) Since I don't recommend consuming cow's milk-derived yogurt (this is why), I often suggest people buy coconut yogurt, or better yet, make their own! I loved making this recipe and from the feedback I received from it, I can tell other people did too. It was so easy to make and you end up with a thick, creamy, probiotic-rich yogurt that you can turn into a parfait like this! If you haven't tried it yet, I highly recommend that you do!
2. Blueberry Flax Oat Bran Muffins
I knew these Blueberry Flax Oat Bran Muffins would be a hit when I first tried them! I don't use oat bran that often, but I really love the texture that it brings to a muffin like this. With the addition of the blueberries that explode in your mouth and keep the muffin nice and moist, I'm not surprised that these muffins came out on top in 2017! They make the perfect snack and are kid-approved (according to V!) If you haven't yet, you've got to make them!
3. Chocolate Chip Almond Butter Rice Crispy Squares
If you loved rice krispie squares growing up, you will LOVE these Chocolate Chip Almond Butter Rice Crispy Squares! Especially because they aren't loaded with all of the junk you'll find in the conventional version 🙂 I'll tell you right now that they are addictive and likely won't last long in your home so I suggest making a double batch! They are crunchy, sweet and make the perfect little snack to satisfy a sweet tooth!
4. Sweet Potato Veggie Pad Thai
This Sweet Potato Veggie Pad Thaicomes from our Community Manager, Rachel! She made this for Walker and I earlier this year and we were in LOVE! I love thai food but don't enjoy how the restaurant-version makes me feel which is usually full of refined sugar and possibly MSG, which is why I was so excited about this recipe. Based on the raving reviews and comments we got on the post, I think other people were too 🙂 Try it tonight!
I love baking and cooking with fruits and vegetables that are in season. So naturally, when zucchini season came around, I had my heart (and belly) set on making this Zucchini Walnut Cake (which was inspired by my other crowd-pleasing Gluten-Free Peach and Wild Blueberry Cake!) The great thing about this cake is that it's full of fiber so it won't spike your blood sugar in the way that white or wheat flour baked goods can. Since V was born over 2 years ago now, she has become my official recipe tester and I'm proud to say, this is another Vienna-approved treat!
Now you know the most popular recipes of 2017,
here are my personal favourite recipes. 
1. Tuscany Veggie Bolognese
We are a pasta and pizza family for sure, that's because I'm married to an Austrian guy who was Italian in another life and our daughter Vienna is exactly like her Daddy! This recipe for Veggie Bolognese was Walker's idea, but I love it too. This is definitely a McJordan family favourite. If you don't eat animal foods, you can use tempeh and crumble it up instead of ground beef or chicken.
2. Roasted Chickpea Kale Salad with Creamy Dressing
This beauty was as much joy to eat as it was to photograph. Walker takes all the food photos for the blog and I do the food styling. This is one of his all-time favourite photos. The photo really does do the deliciousness justice in this case. The crunchy chickpeas mixed with the rich creamy dressing and flavours in the salad makes a wonderful and fulfilling meal any time of the year! Vienna might not be diving her face into a kale salad, but she LOVES the crunchy chickpeas. 
3. Creamy Avocado Pasta Salad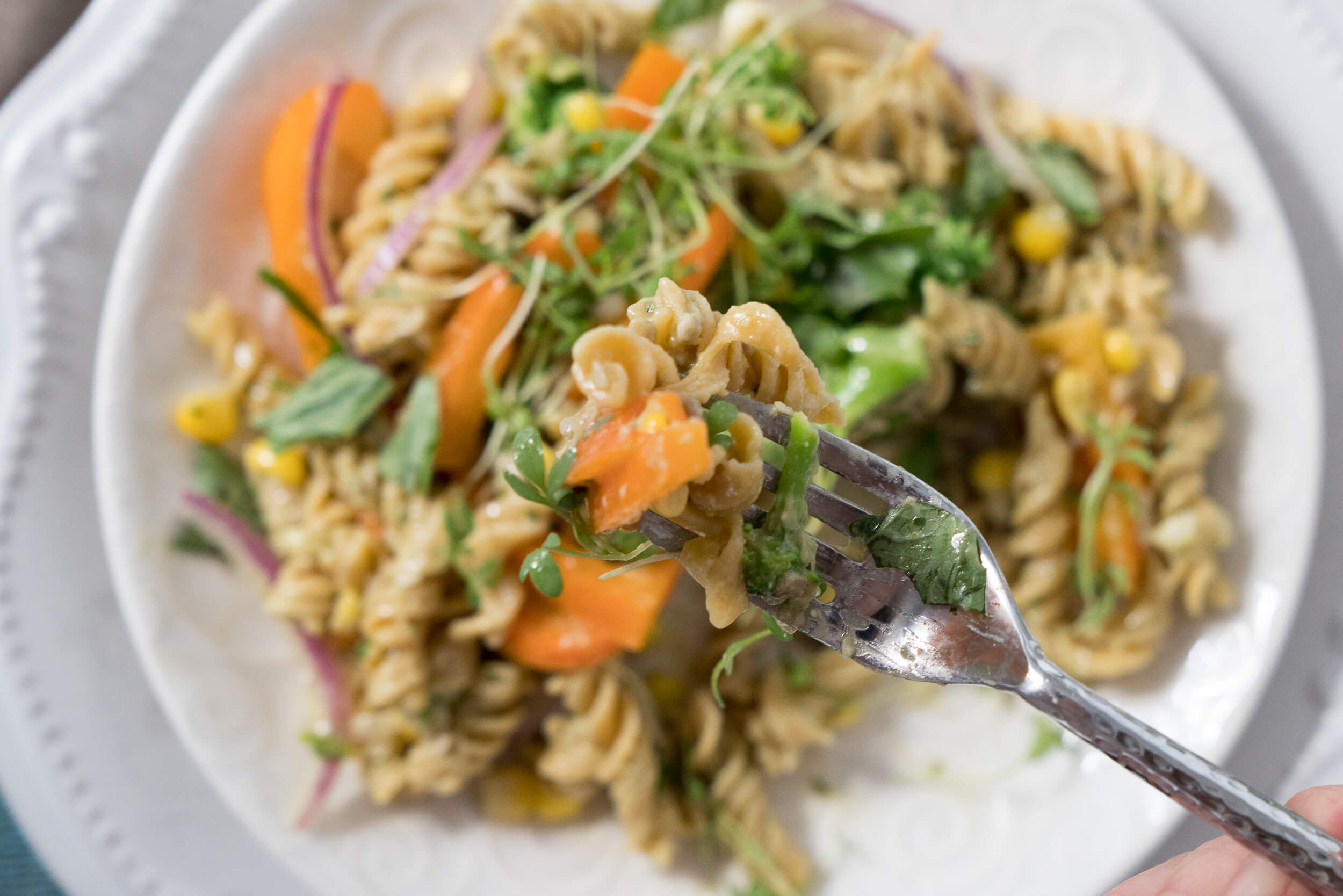 As I just mentioned, we are a pasta loving family, so it's not really a surprise that this Creamy Avocado Pasta Salad made it on the list for one of our favourite recipes of 2017. This is a wonderful recipe if you love a creamy sauce but can't eat or choose not to eat dairy. This particular pasta is really high in protein and fibre and totally gluten-free. 
4. Chocolate Beet Smoothie Bowl
I make a smoothie every single morning for Walker, Vienna and I to share. It makes me feel really good knowing that both my hubs and daughter are well-fueled for the day (and I feel good too)! Smoothie bowls make you feel like you're eating something with a little more substance because you've gotta chew. This recipe looks as good as it tastes! Have you tried it yet? Honourable mention goes to my Coconut Crunch Smoothie Bowl too. 
I made this recently for a our bi-monthly nutritionist potluck party! It was a hit, very warming and fulfilling. This recipe is definitely going into my third book that comes out in 2019! The root vegetables typically do not give anyone digestive problems because they are a very easy to digest starch and relatively low in the glycemic index, making them idea for guests who really care about what they are eating like my nutritionist posse. 
Now that I've shared the most popular recipes of 2017 AND my personal faves, share yours!
Have a Happy New Year!
Joy
This content was originally published here.