As you may already know, I'm a huuuuuuge tea lover! You can find me sipping on an herbal tea most times of the day because I love how comforting it is and because herbal tea (if you are sipping high-quality tea and not this kind of tea ) can pack a ton of nutrition into your day!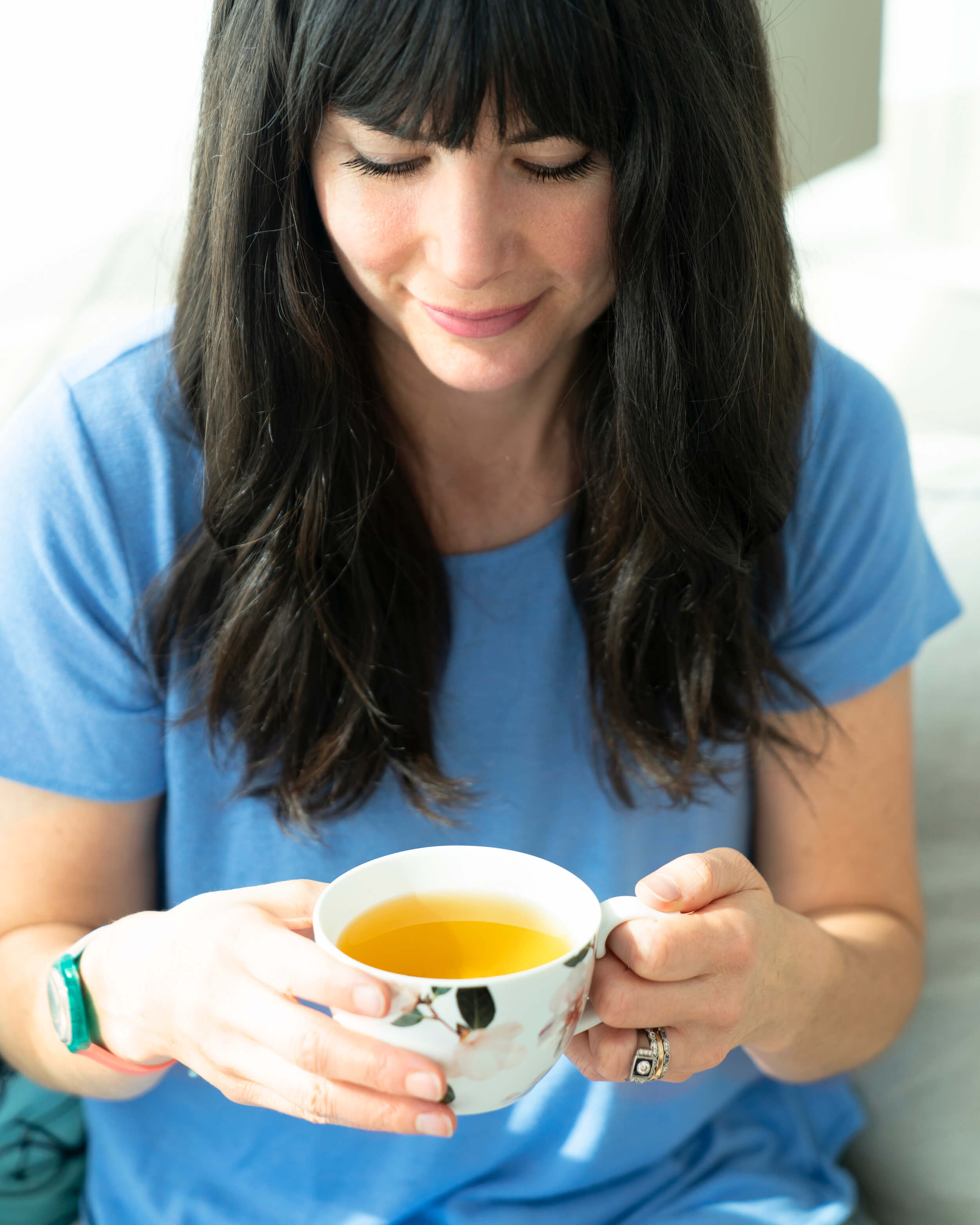 As for what tea I drink, well, I switch it up depending on what I'm in the mood for. I often alternate between the three herbal teas we have available in the Joyous Shop – Rise and Shine, Joyous Rejuvenate and Joyous Detox! 
Since we primarily sell these teas online (in addition to Simple Kitchen in Toronto and the odd tradeshow that we partake in), I'm often asked about each of the teas and which one is the best for you.
It can be a bit tricky to know which one to order just from seeing them online, so we're going to play a little game! I'm going to pretend I'm the waitress at a restaurant and instead of a wine list, I'm going to hand you my tea list and walk you through all of the flavour profiles of each and which one would be the best for you based on your unique palette and preferences.
Hopefully, by the end of my shpiel, you'll feel confident to make a decision and order the tea (or teas!) that are perfect for you! 
Keep in mind, all of our teas are free of caffeine, artificial flavours, colours and sweeteners and are made with only organic, all-natural ingredients!
Rise and Shine Tea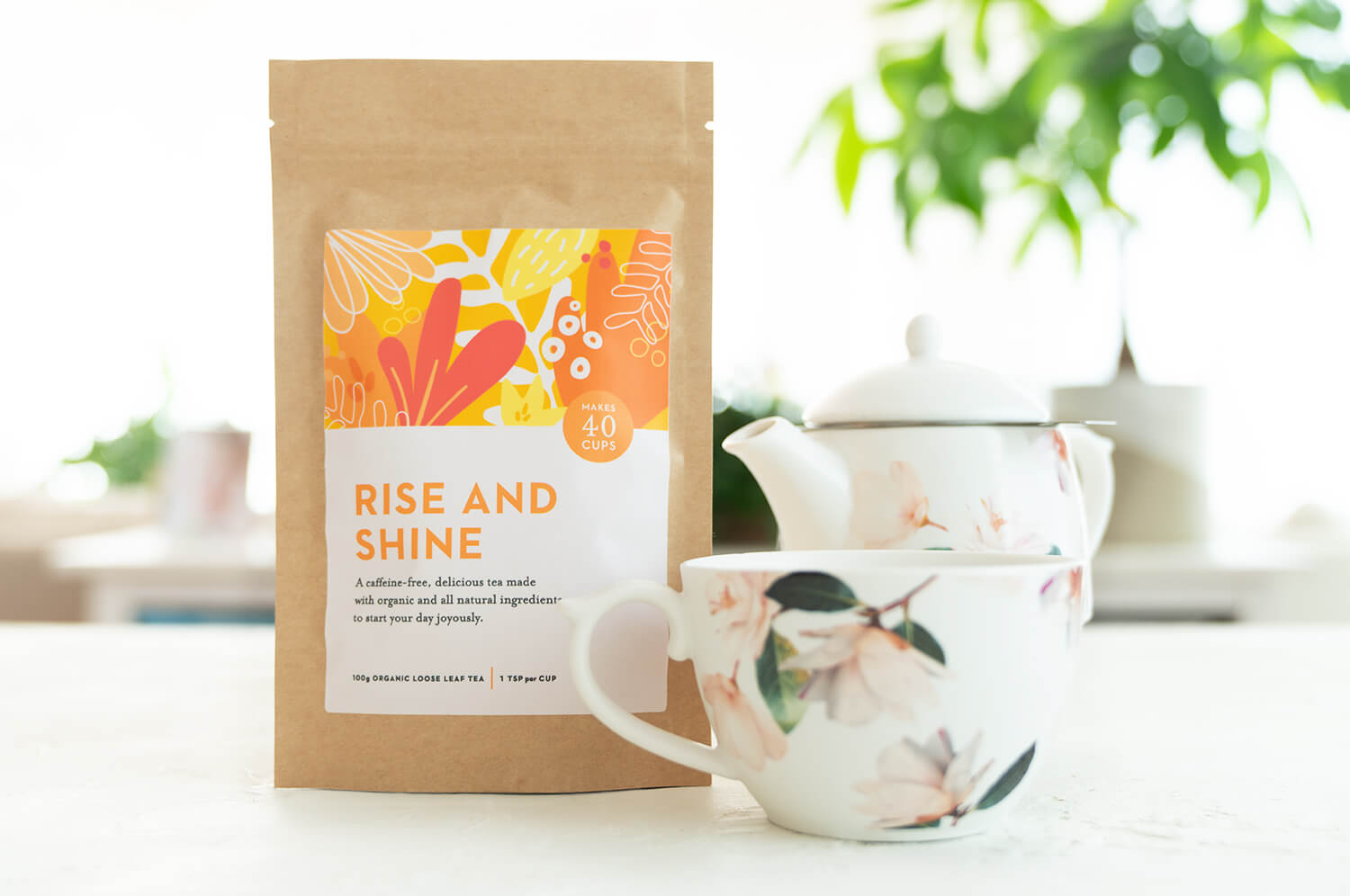 Why I Love It
I love all of our Joyous Teas, but it's no surprise that this one is a top favourite of mine because of it's delicious turmeric flavour (I'm turmeric OBSESSED, in case you didn't know!). The best way I can describe it is that it tastes like a warm, cozy hug on a cool day. It also tastes incredibly delicious in my Rise and Shine Latte or as a base for other tea lattes, like my Maple & Spice Oat Milk Latte . This is a must-have in the cooler months! 
Tasting Notes
Health Benefits
You will love it if
You are a turmeric lover like me! However, if you aren't a huge fan of turmeric, don't worry – the turmeric isn't overwhelming since it's complemented by the warming, naturally sweet flavours of cinnamon, cardamom and coconut extract. If you suffer from any sort of inflammatory condition such as arthritis or digestive issues like IBS (Irritable Bowel Syndrome), Crohn's or Ulcerative Colitis, you may find this tea brings some relief due to its anti-inflammatory properties.
Recipes to enjoy it in
Why I Love It
It's not just the name; once you take your first sip of our Joyous Rejuvenate Tea, you will feel rejuvenated! You can enjoy this tea any time of day, but I love to have it in the afternoon. The lemon and hibiscus flavours make it feel like a sweet treat. They're bright and refreshing, making it great to enjoy hot or cold.
Tasting Notes
Health Benefits 
You will love it if
You enjoy the uplifting flavours of lemongrass, hibiscus and lemon. The organic ginger in this tea gives it a super subtle kick that leaves you feeling a sense of calmness and rejuvenation!
Recipes To Enjoy It In 
Why I Love It
OMG! I don't have enough good things to say about our Joyous Detox Tea! First off, I view detox as a daily habit so you won't find me jumping on the bandwagon of any quick-fix detox regimes. We can detox daily through the food we eat, our lifestyle habits and the tea we drink. YES! You read that right. Simply by drinking this Joyous Detox Tea, you will be supporting your entire body's detoxification systems including your liver, kidneys and digestive system!
Tasting Notes
Health Benefits
You will love it if
You are experiencing sluggish digestion, low energy and are in need of a boost! You will especially enjoy this tea if you prefer more of an energizing "spicy" ginger flavour. The blend of orange peel and orange oil bring and uplifting citrus flavour. And the combination of both, along with the other ingredients, make it a super yummy, nourishing detox tea!
So, there you have it – our Joyous Herbal Tea! If you have any other questions about any of our Joyous Herbal Teas, please drop them in the comments below. I would be more than happy to address them and help you find the most perfect Joyous Tea(s) for you.
By the way, we also have a FREE 7-Day Time For Tea Challenge that shows you how you can incorporate herbal tea into your daily life to support everything from your energy levels, hormones, detoxification, metabolism and more; in other words, everything you need to feel like your most joyous self! It's free to join and when you register, you'll get access to an exclusive discount on our line of Joyous Teas. You can sign up here.
Happy tea drinking!
Joy xo
This content was originally published here.