Chocolate, cinnamon-y, maca-goodness! These balls are no-bake, totally plant-based (aka vegan) and have been made a gazillion times in the McJordan home.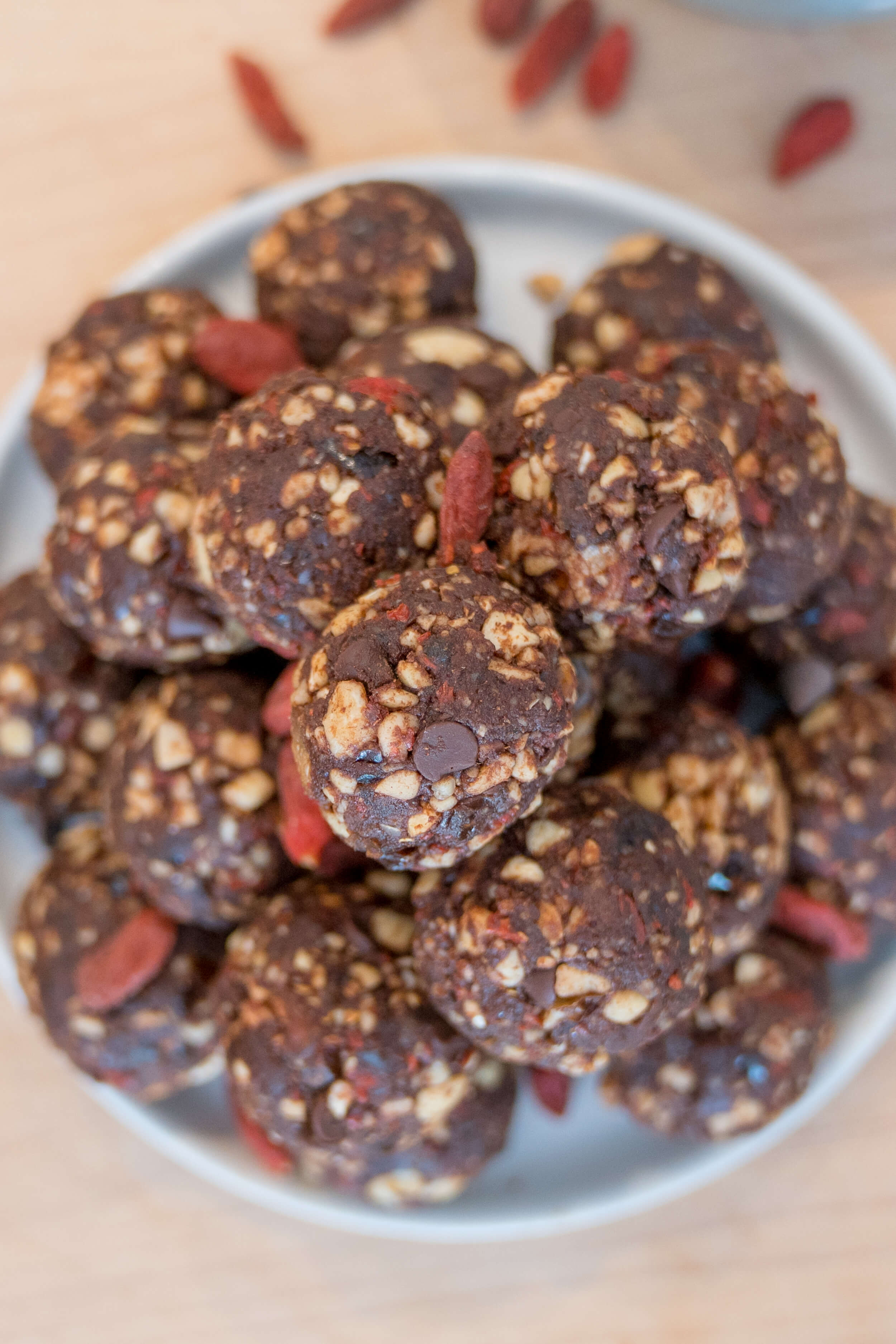 If you remember the first version of this recipe, I'm impressed, because that means you've been reading my blog for six years! These Sexy Maca Balls were so popular that they even made it into my first book Joyous Health and they are as loved as my Carrot Cake Balls.
I have to admit, I was kinda over balls and haven't made them in about a year but I recently shared the recipe on a segment I did on The Goods (airing in February) and everyone on set was in love with them! My segment was about smashing sugar cravings and these sexy maca balls were the featured recipe. This inspired me to give them a remake and film a video! See below for that 🙂 
The key ingredients in this recipe that make them sexy are maca, raw cacao and goji berries.
If you're not a fan of goji berries (they have a distinct flavour), no problem, just swap with dried blueberries or cranberries instead. 
The most noteworthy ingredient in my recipe is definitely maca. Have you ever used it before? I used to put it in my smoothies all the time when I was a personal trainer with the intention of boosting my energy.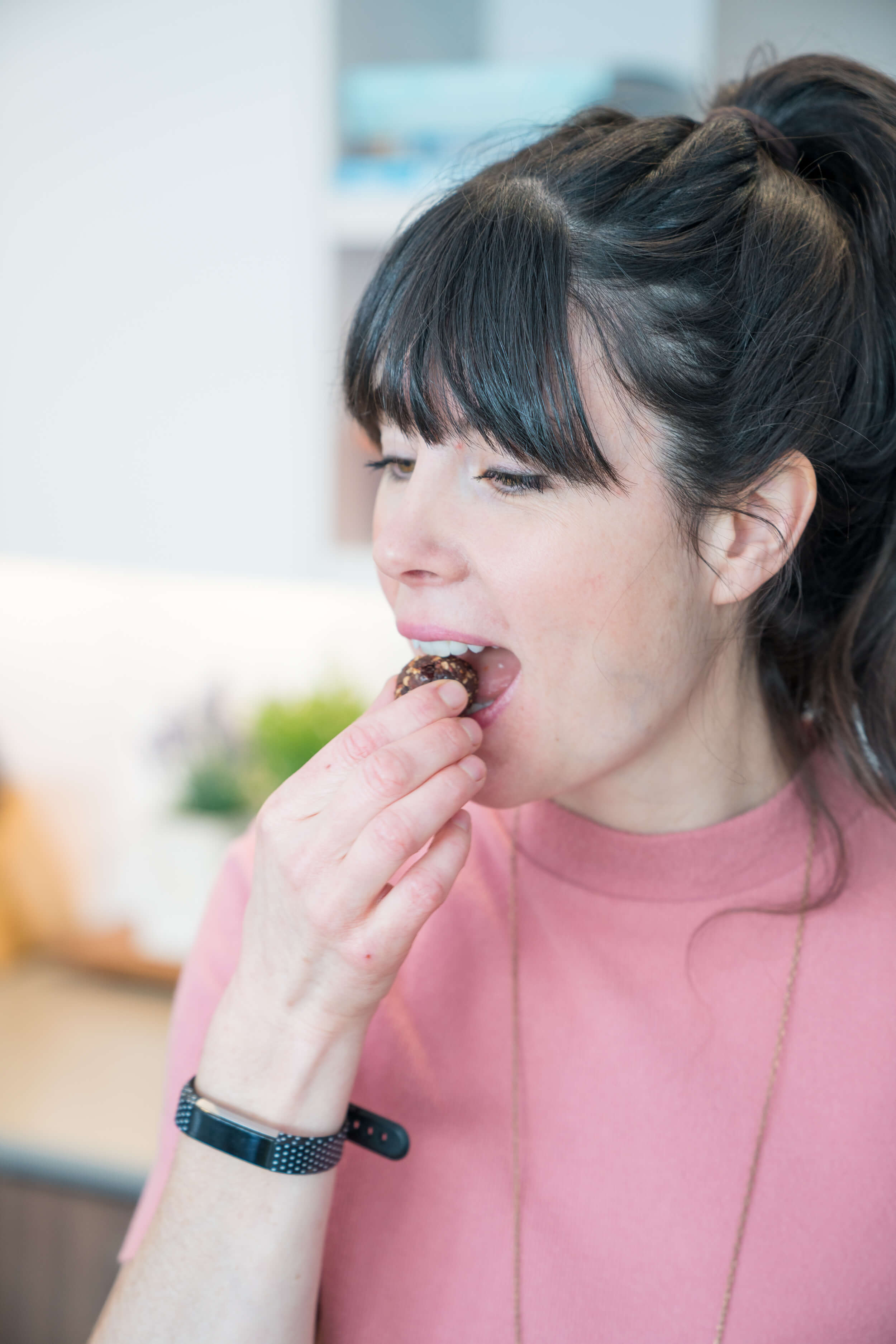 Maca is a well-known and loved adaptogen. Adaptogens are natural substances derived from plants or botanicals that help the body adapt to stress, anxiety and fatigue.
Maca has been used traditionally in South America for over two thousand years to help with stamina, energy and libido.  It has also been said to be hormonally balancing and shown promise for improving sexual function in research, hence the name Sexy Maca Balls, teehee! If your sex drive has taken a nose dive, I don't know that maca is the answer. I would say, do everything you can to limit stress first including addressing lifestyle factors that may be contributing to your stress. 
Before I share it with you, I already know what kinds of questions you're going to ask me, so here are my answers ahead of time.
Can you eat these if you're pregnant or breastfeeding?
Yes, the amount of maca you're likely consuming over the course of day by eating two or three of these balls is not a concern, in my opinion. And yes, I consumed maca when I was pregnant but I was not using it as a natural health supplement. 
Should you have maca every single day if you're pregnant or breastfeeding?
Probably not. There's not enough research to support the safety of maca root during pregnancy or while breastfeeding. 
What maca brand do I recommend?
I used Navitas Naturals in this recipe. You can find it on Amazon here. 
Okay here's the video and recipe. Enjoy friends!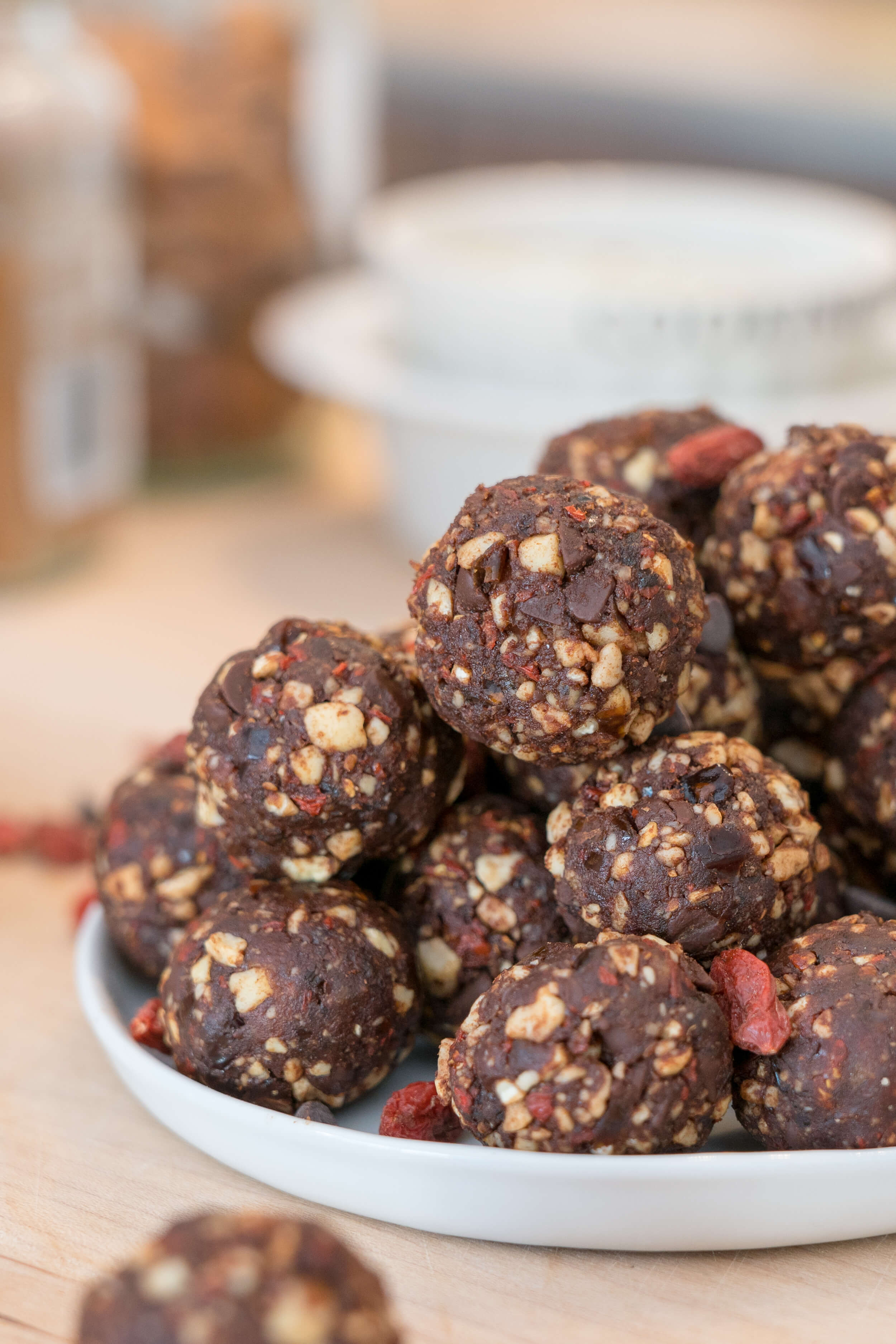 1.5 tsp maca powder
1 tbsp ground cinnamon
2 tbsp raw cacao powder
1/4 cup dark chocolate chips or raw cacao nibs
1/4 cup raw almond or cashews
1/4 cup goji berries or dried cranberries
1 tsp vanilla extract
8-10 soft medjool dates, pit removed
If your medjool dates are dry, I would recommend soaking them for 30 minutes – 1 hour first in warm water.
Toss all ingredients into a high powder blender or preferably a food processor and blend until crumbly.
If the texture is lacking moisture, add a very small splash of water and keep adding until it reaches a texture that clumps nicely into balls.
Rolls into 1.5 inch balls.
Makes 18 balls.
Troubleshooting:
1. Batter not forming into balls easily? Add a few more medjool dates.
2. Not sweet enough? Add 1 tbsp of maple syrup.
3. What brand of maca should you buy? See my post above for a link.
There you have it! Easy recipe right? Make a double batch and freeze them. They will be good for months if you freeze them or about about 7-10 days if you store them in the fridge. They never last that long in the McJordan home though! 
If you really love maca, let me know and I will create more recipes with it. Just comment below!
Have a joyous week and be sure to tag me on social media @joyoushealth & #joyoushealth as I love to see what you make!
This content was originally published here.