I'm super grateful to have had an awesome mentor when I was first starting my business a few years ago. Since that mentor had already established her successful business, I thought – perfect, I just have to do exactly what she's doing. So, I did.
I started writing my blog posts and Instagram posts exactly like she did (which was very different from how I would typically communicate). She had more of a discerning, critical tone and I simply … did not :). I'm definitely not saying there's anything wrong with this. In fact, it really works for her and I know she's respected for it in her community.
But coming from a kale AND wine/chocolate-loving nutritionist, it didn't make a whole lot of sense that I would be lecturing people about an emulsifier in almond milk. Naturally, people saw right through it.
How did I know people saw through it? Because nothing was really resonating. Sure, it was early on in my business, which makes it easy to think it just wasn't working. But deep down, I knew because even I was having trouble connecting with the content I was putting out and I definitely didn't feel passionate about it.
But the more I did one-on-one consultations, got clear on my "why" and what kind of nutritionist I really wanted to be, the more I started to find my place and my voice. I was going to be an Emotional & Disordered Eating Nutritionist! I was going to make up my own rules and convey my views on nutrition in a way that felt natural to me and in line with my beliefs.
I started to show my silly side, my quirks and my willingness to be vulnerable. I shared my personal story, my fears, my hopes and my passions.
And you know what happened? My message started to land.
I started receiving messages from people saying how much they connected with my message and the work that I was doing; evidence that my message was finally resonating with my audience.
The online world is funny now too, in that it's not a rare occurrence to bump into someone you know from the online world in an in-person setting, such as at an event or heck, even on the street. While it's not mentioned everytime, I've had a number of people say to me that I'm just like I am in person as I appear to be online, which I take as a compliment!
So why does this matter? Well, I'll tell you that when I'm reading an article or a post by someone that may not have found their voice, it's very evident (scroll back circa Jan 2016 on my Instagram and you'll know what I'm talking about – ha!). It feels slightly cringe-worthy and it's not captivating and in this day and age, where bajillions (yes, it's a number – in my world) of content is being published every single second, you need to make your words count! Or, on the other hand, when people to revert to boring 'ol "proper" business jargon, it can be a quick way to make your audience's eyes glaze over.
I want to feel like whoever is trying to communicate with me is talking to me. Don't you?!
With that said, I've rounded up some tips I've learned over the years about finding your voice in business, but if you have any to add, I would love to hear them in the comments below!
How To Find Your Voice In Business
1. get clear on your "why"
I referred to your "why" earlier but didn't really explain it in-depth. Your "why" is very much what it sounds like – why do you do what you do? What is that rooted in? Is it a personal experience or passion? This is what's going to set the foundation of your business and the decisions you make around it. It should also be blatantly obvious when people land on any of your social channels, website or read your words. Getting clear on your why will help you to convey your message with passion. It'll also make it a whole lot easier to write and communicate because you are so clear on why it is that you're doing. 
How do you find your "why"? It does take time to flesh it out, but if you're interested in learning how to actually do this, this is something we cover in the first module of the Joyous Health Business program. Because let's face it – if you don't have a strong why behind your business, you won't have much of a lifeforce behind your business! 
2. narrow in on who you're talking to
Once you figure out your why, this is a good opportunity to narrow in on who your ideal client is (another thing we talk about in the Joyous Health Business program) because they will be the people you will be communicating with, after all. Prime example: the way you would speak to a millennial versus a baby boomer is very different!
We like to refer to this as building your client avatar. Some things you'll want to flesh out and get clear on are:
Getting clear on who you're talking to will help you to speak to them in a way that actually resonates and inspires them to take action. 
3. Determine how you want people to feel
Do you want people to feel enlightened by maybe stirring the pot and offering opposing views? Do you want to be that voice of compassion and provide a feeling of love and safety? Do want to take a humorous approach and help people feel more care-free?
When writing up these ideas, I actually had certain people in mind that do this very well. You may want to take a peek at their accounts and their style of writing to get a better understanding of what I mean. Remember, don't try to imitate what they're doing just because it's working from them. This is just an example for you to see how getting clear on your why, who you are and how you want people to feel can help you to communicate your message more effectively.
If you have any accounts you love to follow because they make you feel a certain way, feel free to mention them in the comments! The more examples we have to refer to, the better we'll be able to understand this concept. But remember – don't try to be them!
4. Dare to be different
I know this might sound like something you might hear from your parents, but it's true! Being different is how you will stand out from the crowd and the way that you do that is not by imitating what someone else is doing, but by showing up 100% as your most authentic self. It took me a long time to learn this lesson but when I really let it sink in was when I experienced that turning point in my business.
Another lesson that came with this was to not worry about being someone for everyone. Coming from a people pleaser myself, it's only natural to want to appeal to everyone but you really have to be okay with the fact that you aren't going to be everyone's cup of tea. There are still so many of your client avatars out there that are a perfect fit! 
My last piece of advice is to be consistent. Keep writing and don't stop. You might not love everything that you put out but you have to start. You can make changes along the way. But the more you write, the more you will discover your unique writing style including what feels most natural to you and what's working versus what's not in regards to speaking to your community.
As I mentioned, we cover this in greater depth in the Joyous Health Business program but if you want to get a little taste of it, along with some feel-good awesome sales strategies that you can use as a wellness entrepreneur, we'd love for you to join us for our upcoming webinar, Profit with Passion and Purpose on Tuesday April 16th at 8pm EST. You can save your spot over here!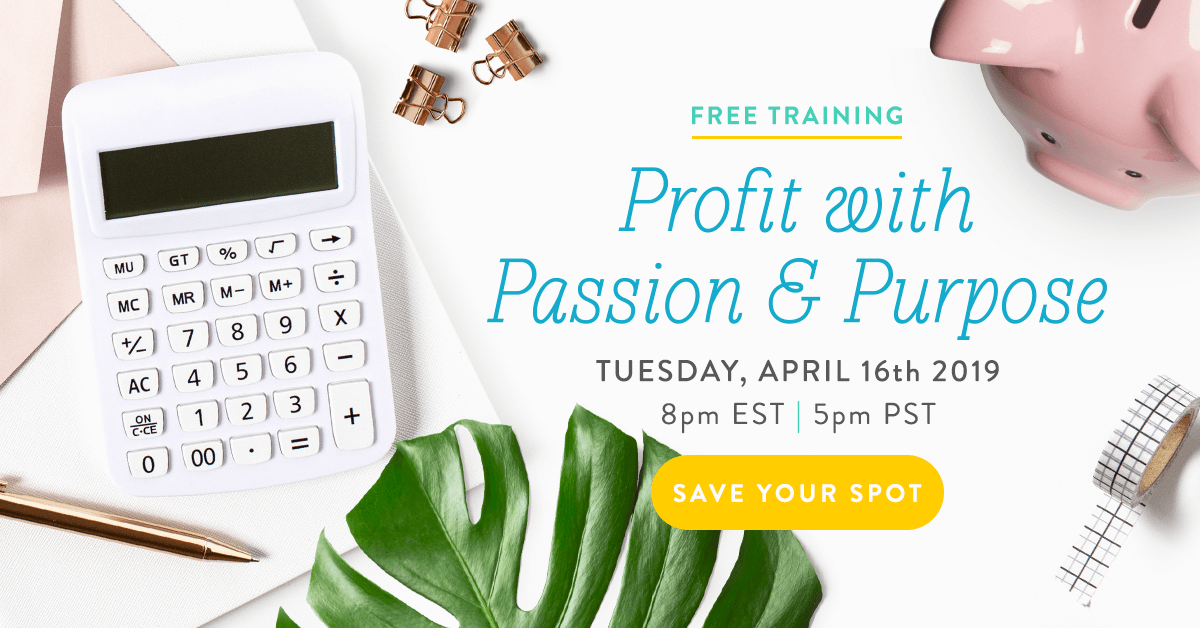 What's one of the best things that's happened since you found your voice in your business?
This content was originally published here.