This summer I am going to share all my favourite seasonal dishes up on the blog that I've been making for years! That includes this recipe for Creamy Herby Potato Salad which is one I make all the time, especially when we are having company over for dinner because it's always a slam dunk. It's adapted from my first book Joyous Health, but it's even creamier than the original. 
I'm also going to share my guac recipe and my bruschetta in the coming weeks — both are flavour-packed recipes. These recipes are nothing fancy, but they are my faves that I make all the time when I can get the best of what's in season. I guess I've just always assumed that you have your own versions of these summer faves and that's why I've never shared them. But I thought why the heck not, maybe my versions of these classic summer dishes will be slightly different than yours.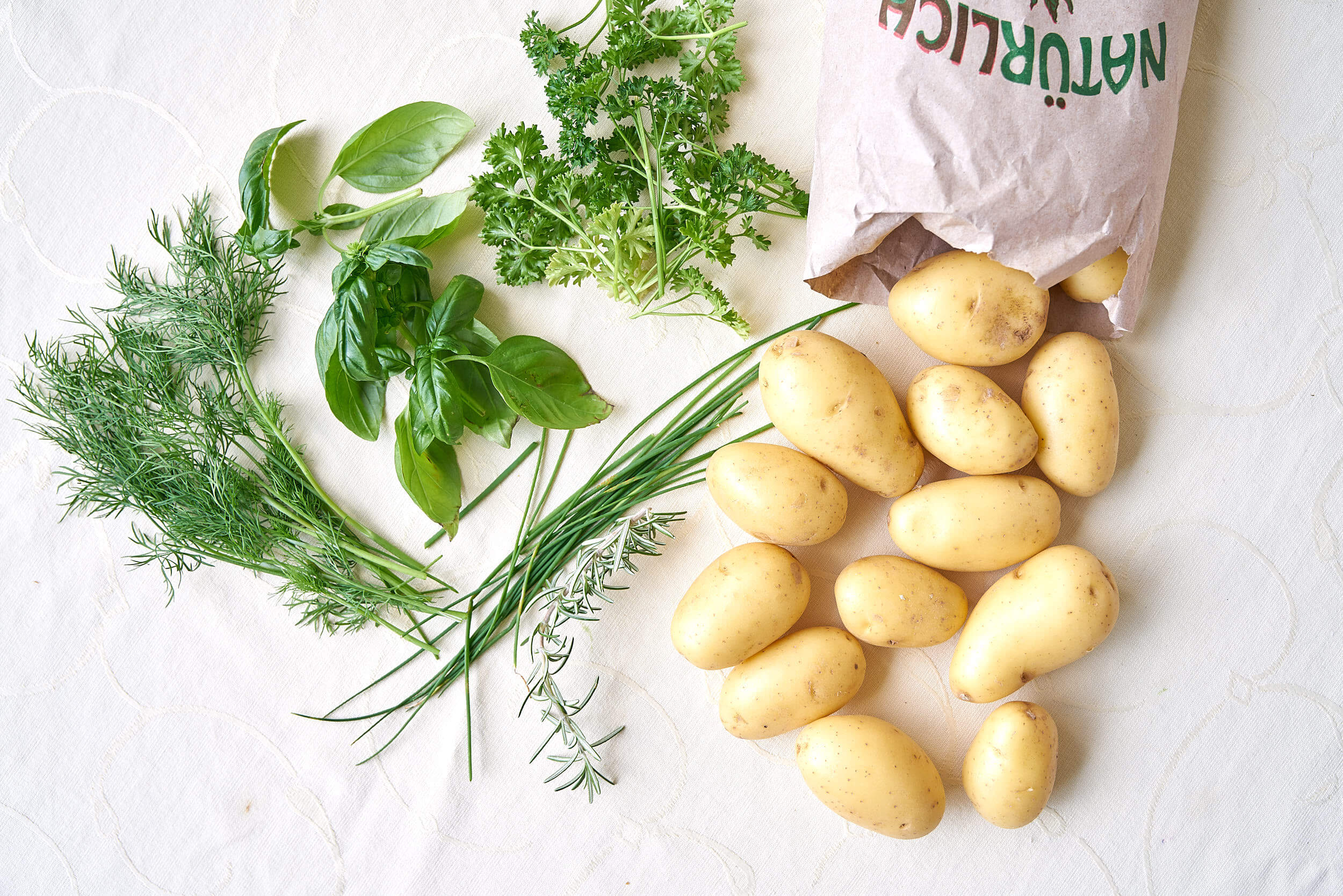 As you might have guessed, I'm in Austria. Every summer since 2011 we've been coming to Europe. We only ever missed one summer when I was in my third trimester pregnant with Vienna. I tell you this because my father-in-law has a lovely herb garden with all my favourite herbs. When I saw it, knowing how much Austrians love potatoes and you can get pretty much every variety at the local farmers market, I knew I had to make my Creamy Herb Potato Salad!
We've only been here a week, but already I feel like I've been away much longer. That being said, my heart has really been drawn back to Toronto these last few days though with the recent shooting that happened on the Danforth by a very unstable person who took the lives of a child and a young woman. I feel deeply for the families who have lost loved ones and all I can think about are the moms and dads who lost their children. It absolutely breaks my heart and I feel great sorrow when I think about it. That tradegy has put me in the mood for comfort food as I grapple with how I'm going to move forward feeling safe in a city I call home. 
This potato salad definitely tasted like comfort food without weighing us down. In fact, after we ate it I said to Walker "I feel so good and satisifed". We also had it with some roasted garlic and herb chicken I made. It was the perfect dinner! Normally I make a large salad to go with whatever protein we are having, but I put so many herbs in this recipe it felt like a salad.
True to it's name, this salad is super creamy and incredibly fresh and flavourful thanks to the herbs from my father-in-law's garden.
I had an eager little helper making the salad dressing with me. We sat on the balcony together while we made it. Lucky for us, the weather here has been perfect!
1 lb baby or red potatoes
3 heaping tbsp tahini
2 heaping tbsp dijon (grainy if you have it)
1/4 cup extra-virgin olive oil
3 tbsp water
1/2 cup mixed fresh herbs, chopped. I used dill, basil, parsley, chives and rosemary
1/2 tsp sea salt
2 garlic cloves, minced
Juice from 1 large lemon
1/2 cup pickles, chopped (I used gherkin pickles)
Optional for extra tang: 1 tsp apple cider vinegar
Wash and cut potatoes into quarters. If you have organic potatoes, you do not need to peel them.
In a large pot on the stove boil water. Add potatoes and cook on a soft boil for 15-20 minutes. Be careful not to overcook.
Drain and run under cold water. Refrigerate immediately or put in a cold ice bath of water in a large mixing bowl.
In a large bowl, whisk together the dressing ingredients: tahini, dijon, olive oil, water, herbs, sea salt, garlic, lemon and acv if using. Give a taste test, and add more of any ingredient you wish.
Remove potatoes from ice bath and drain. Place in a large bowl and toss with dressing and stir in pickles. Enjoy immediately!
Don't feel you have to use all the same herbs I used. I suggest you use whatever you can get your hands on or whatever is growing in your garden. The combination of using multiple fresh herbs is truly wonderful and earthy.
Other options to make it delicious:
There you have it, one of my favourite summer recipes, creamy herb potato salad!
If you've got an awesome take on a potato salad, share below! 
This content was originally published here.