The only thing that I've put on my body for the last 6 years is our 'Smooth Like Butta' body butter. It's also the only product (aside from straight-up coconut oil) that I've put on Vienna's body since she was born! Since this is one of my favourite products in the joyous shop, I thought I would share with you 7 ways to use body butter and show you how incredibly versatile it really is!
7 Ways To Use Body Butter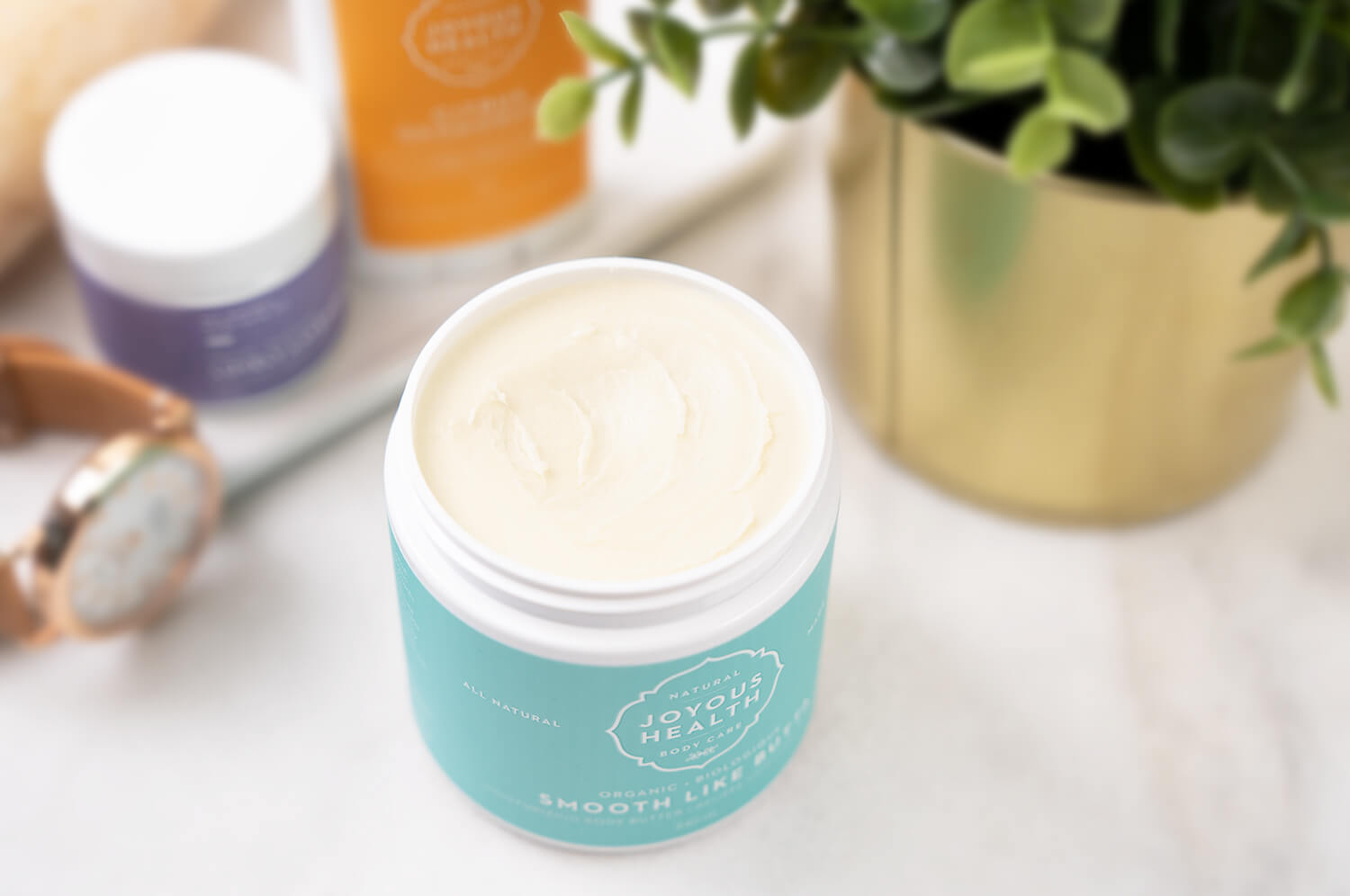 1. APPLY ALL over your body
Doing this will make your skin G-L-O-W. I know this to be true because I've experienced it first-hand! After I've applied it, my skin feels so soft and supple. The blend of rich natural oils including mango butter, shea and cocoa butter, along with Canadian superfoods like Chaga and propolis make this an incredible way to truly nourish your skin.
This 'Smooth Like Butta' Body Butter is what I use to moisturize my skin on a daily basis, or at least every time I shower, which is most days of the week, ha! I am not a fan of fragrance at all so I love that the smell comes from the actual raw ingredients like cocoa butter, which is deeply nourishing for the skin.
The best part is that it absorbs nicely into your skin so it won't get all over your clothes, like how straight coconut oil will. If you do happen to get a little bit on your shirt by accident, don't worry as it washes out very easily.
I will put extra body butter on extra dry areas like the soles of my feet and my hands. I carry a smaller jar in my bag with me everywhere, because if I ever use a public washroom I like to moisturize my hands right after washing them. I use this body butter from my head to my toes (even in my hair, but more on that in a bit) and everywhere in between. However, I do not use it on my face because it's too rich for me. 
This was the only product I used on my growing belly when I was pregnant with Vienna and I had no stretch marks.
2. PREVENT STRETCH MARKS DURING PREGNANCY
When I was pregnant with Vienna in 2015, I slathered my belly with this stuff every day. It prevented itchiness as my skin was stretching in my second and third trimester, which was a godsend as belly itchiness is a real issue for a lot of mamas ! I am happy to report I didn't get any stretch marks – whoop whoop! Oh, and that smoothie I'm drinking was this one. I was smoothie obsessed when I was pregnant!
3. PREVENT OR ALLEVIATE DIAPER RASH ON YOUR BABY'S BUM
This Smooth Like Butta Body Butter is completely free from harmful chemicals and toxins, making it safe to use on the most delicate bodies including babies and children. It leaves your skin feeling soft, smooth and supple. Whenever we give Vienna a bath, we slather her whole body in it!
When Vienna was a baby and wearing diapers, every time I changed her diaper for a pee-pee or a poop, I would slather her bum with this or coconut oil. Those are the only two things to ever touch her body still to this day! Other than sunscreen , of course. We were able to avoid diaper rash and I'm certain it was thanks to the anti-fungal properties of this body butter.
4. SOOTHE ECZEMA PRONE SKIN
I have been prone to eczema my whole life, that's exactly why I created the Eczema Healing Kit to help others heal their skin from within. Over the years, some of the best testimonials for this body butter have been from you guys sharing with me that it helped your eczema or your child's eczema. This is not surprising because the shea butter contained in my body butter is a natural way to combat eczema, thanks to all those healthy fatty acids that nourish the skin and aid in skin cell regeneration.
Shea is rich in vitamin A and E, both of which support skin cell health and promote the healing of dry, itchy inflamed skin.
5. TAME FRIZZ, FLY AWAY HAIR
I use very few hair products other than shampoo, conditioner and dry shampoo in my hair. But in the winter, when the heat is blasting and we are indoors more, my hair does get dry so I'll use body butter on the ends of my hair where it gets especially dry. You don't just have to take my word for it either – my mother-in-law swears by it for her hair too! She has white hair, which can be dry and she finds it makes her hair silky and smooth!
A little goes a long way, so if you're a first-time user, be careful how much you use so you don't end up with a greasy mop!
6. USE AS Lip Balm 
I use only natural lipstick and I find the matte ones tend to be quite drying to my lips. To remedy that, I always apply a little bit of body butter on my lips after I've put lipstick on or if I just want some quick moisture without lipstick, it works like magic!
7. USE AS AN Aftershave
My hair grows fast so as you can imagine in the summer, I have to shave my legs more often than I would like to admit. Every time you shave, you remove those natural oils that protect your skin, which can make them very dry. This is exactly why I always slather my legs with body butter immediately after I shave my legs. It makes them feel silky and smooth and it lasts all day long.
There you have it – 7 ways to use the Joyous Health Smooth Like Butta body butter! If you didn't already know this, we do NOT test our products on animals, it is USDA Certified Organic and every single ingredient in this butter has a functional purpose and it causes NO harm whatsoever, only amazing moisturizing, healing, magical nourishment for your skin!
You can learn more about it here. 
Any questions, as always post below!
This content was originally published here.